Day Retreat for Deaf Adults:  Just before Lent begins, February 22, 2020 we will have a Retreat Day for Deaf Adults.  Our retreat director will be Father Shawn Carey from Boston. The theme is:  Lenten Cross Fit.  Join us to be strengthened spiritually.
Deaf Adult Day Retreat: Feb. 22, 2020
Click to Register for this retreat online.
Deaf Women's Weekend Retreat:  Save the date August 7-9, 2020 for a retreat sponsored by the Diocese of Camden and the Archdiocese of Philadelphia.   For more information  email sr.kschipani@archphila.org.  Details will be posted soon. 
Deaf Women's Retreat 2020
www.sanalfonsoretreats.org
Deaf Men's Weekend Retreat: Each year in mid July, the Deaf Apostolate sponsors a Deaf Men's retreat at San Alfonso Retreat House, a Redemptorist Retreat Center at the beach in Northern New Jersey. This year's dates are July 10-12, 2020.
National Deaf Cursillo:  Visit www.nationaldeafcursillo.org  for updates on the next Deaf Cursillo.
Mark Seven Bible Institute: A Deaf-friendly, ASL Bible study week at Camp Mark Seven to study and explore the Bible.  For more about the 2019 CM7 Institute go to: https://www.campmark7.org/programs
Deaf Catholic Women's Conference: The 2018 Women's Conference was a  day of Mass with the Archbishop, dynamic speakers, exhibits and prayer will also feature an ASL track featuring  Lulu Lee, a inspirational presenter and Deaf lay leader of the Deaf Cursillo.   The next Archdiocesan Women's Conference is scheduled for  24, 2020.  We are not planning a Deaf Women's Track for 2020.   Susan Gudenkauf will be the presenter for the Deaf track.   Her theme will be Deaf Catholic Woman- Strong and Beautiful.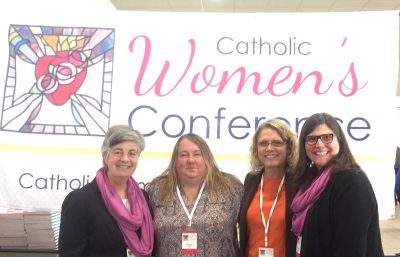 Deaf Teen Retreat: Teens preparing for Confirmation and teens who have received the Sacrament of Confirmation are invited to attend the Teen Retreat.
Deaf Adult Mission Retreat: Every year the Deaf Apostolate sponsors a retreat in American Sing Language at a Retreat Center in the area.  We are hoping that Fr. Shawn Carey will be joining us sometime in the Fall of 2019 or Spring of 2020.  We will be announcing this soon.